Welcome to The 13th Floor
Open Friday and Saturday Nights Only
The 13th Floor is the premier on-premise party in the DFW Metroplex. Our 6000 Sq. Ft. facility features our four uniquely themed party areas - The Bordello Room, The Paris Room, The Mirror Room and the outdoor Fantasy Oasis. Each room allows you to live out your fantasies in a sensual atmosphere with varying degrees of privacy based on your individual comfort level. In addition to the playrooms, enjoy the recently remodeled dance floor/bar area where our DJs play the latest tunes, a fenced in patio with two hot tubs and a play bed, as well as a full hot & cold buffet. We pride ourselves on maintaining the highest levels of service, cleanliness and safety. Whether you are an experienced swinger or brand new to the scene, the 13th Floor is the place to be every Friday and Saturday night. Please click here for a quick tour.

With our central location just minutes from downtown Dallas, we are easily accessible from all parts of the Dallas/Fort Worth Metroplex.

But what is the most important thing about our party house? It's the people that attend our parties. They are fun, energetic and exciting! Please read what a few have written about us on the reviews page.

Please call us to make a reservation and join us for an evening you'll never forget!

It's Time To Plan Your Halloween Costumes & RSVP!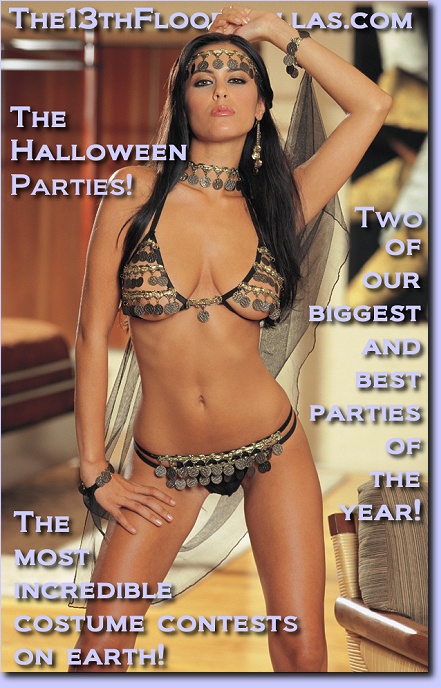 Halloween Parties: Friday, October 31st, 2014 and Saturday, November 1st, 2014! - The party on Friday will have prizes of $200, $100 and $50, while the Saturday prizes will be $500, $200 and $100. Reservations are now being accepted for this special party weekend. You may click here to RSVP. Please click here for party details.

We're Celebrating Our 13th Year!

We're celebrating our 13th Year of amazing parties! Don't forget -each time you attend a party you will earn an entry in our 13th Floor 13th Anniversary contest. The grand prize, to be awarded December 13th, is 13 free months of parties at The 13th Floor. Sign up on SDC or SLS for our parties and earn an extra entry for that night's party. Click here for details.

New Promotion!

Many new couples join us because they hear about us from you, our loyal guests. So, we want to reward you for your efforts while we offer some added enticement for them to visit the Floor! Simply have your friends mention your names when they make their first time reservations and we will reduce their donation by $25. We will say thanks by taking $25 off your donation the next time you attend a party. No need to be here the same night - you will get your discount the next time you visit. This is a great way to encourage new couples and we also get to express our gratitude for your help.

Get Ready For This Weekend:

Two Incredible Parties! Friday night: 8:30 pm. Saturday night: 8:30 pm. No theme this weekend. With fantastic weather forecast for both Friday and Saturday, this will be a perfect time to come out and enjoy our fabulous patio including the two hot tubs and the play bed. Please join us for another hot and sexy weekend here at The 13th Floor. Click here for party details. Don't forget - every time you join us you earn an entry into our 13th Floor 13th Anniversary giveaway - the grand prize is 13 free months of parties here at The 13th Floor! Click here for details. If you have already been to The 13th Floor and have a PIN, you may click here to RSVP.